FULL 6-LEVEL INSTRUCTIONAL PROGRAM of the Mid-Atlantic Chess Instruction Center listed by type of material.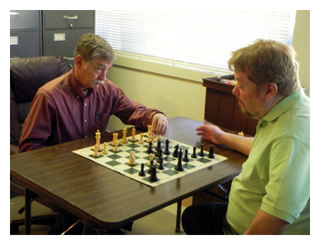 All courses include a lecture by the instructor accompanied by discussion of the course material with the student. Almost all of these courses also have examples in Chessbase format for instructional purposes. Many of these lectures are also in Word format. Those courses which in addition, include exams, drills, or special supplementary instructional materials are so marked.
Both the level of difficulty as well as the number of hours given for a student to complete a given course are estimates. These figures will vary somewhat from student to student. However, the number of hours estimated for completion of most of the courses include home study time by the student; for which he is of course not charged.
[ Openings | Dynamics | Statics | Endings | Miscellanea | Top ]
Openings
Course

Hours

Level

BASIC OPENING GOALS & MIDDLEGAME TRANSITION
( Includes Exam )

3-4

3

BLACK OPENING REPERTOIRE SELECTION
( Includes Stylistic Bias Survey, Drill Positions and
In-Depth Discussion )

16-24

3

WHITE OPENING REPERTOIRE SELECTION
( Includes Stylistic Bias Survey, Drill Positions and
In-Depth Discussion )

16-24

3

ANTI-CENTRAL NEGLECT ATTACKING PLANS

2

4

"HUNTING THE HIPPO":
Defeating Passive Third-Rank Defenses

2

4
[ Openings | Dynamics | Statics | Endings | Miscellanea | Top ]
Dynamics
Course

Hours

Level

BASIC SKILLS - CHECKMATES
( Includes Exam )

2-4

2

1

2

BASIC TACTICAL DEVICES
( Includes Drill Positions )

20-25

2

BASIC TACTICAL DEVICE DEFENSES
( Includes Drill Positions )

7-10

2

THE ANATOMY OF THE COMBINATION


2

4

THE ADVANCED COMBINATIONS COURSE:
INTRODUCTORY MATERIAL AND KEY DEFINITIONS

8-10

4

THE ADVANCED COMBINATIONS COURSE:
SINGLE PIECE BATTERIES ( Includes Exam )

14-19

4

THE ADVANCED COMBINATIONS COURSE:
MULTIPLE PIECE BATTERIES ( Includes Exam )

26-35

4

PAWN PROMOTION DRILLS
( Includes Drill Examples )

6-9

4

COMBOS QUIZ - MASTER MATES
( Includes Drill Examples )

3-4

4

COMBOS QUIZ - MATERIAL WIN
( Includes Drill Examples )

2-3

4

COMBOS QUIZ - MILLENIUM MAYHEM
( Includes Drill Examples )

3-4

4

TIPS FOR THE ATTACK :
PREPARATION & CONDUCT( Includes Drill Examples )

3-5

5

ZWISCHENZUGS
( Includes Drill Examples)

5-7

5
[ Openings | Dynamics | Statics | Endings | Miscellanea | Top ]
STATICS
Course

Hours

Level

ADVANCED MATERIAL VALUES
( Includes Worktables )

3-4

3

5 BASIC ELEMENTS:
Plus Rules for Exchanging Pieces

3-4

4

6 CASES OF THE CLASSICAL CENTER

4-6

4

PAWN STRUCTURE
( Includes Exam and Drill Exercises )

10-14

5
[ Openings | Dynamics | Statics | Endings | Miscellanea | Top ]
ENDINGS
Course

Hours

Level

BASIC SKILLS - ENDINGS
( Includes Drill Examples Checklist )

4-6

2

FINE'S BASIC CHESS ENDINGS RULES:
( Includes Exam )

2-3

3

2-3

3

AVERBACH - 97 GENERAL PRINCIPLES
( Includes Exam )

3-5

4

INTERMEDIATE CHESS ENDINGS ( I.C.E. )
( Includes Drill Examples and Exam )

32-36

5

K & B & N vs. K:
Plus Partial Confinement Techniques

4-6

5

AVERBACH - FULL 16 UNIT COURSE
( Includes Drill Examples and Exam )


64-72

6

BASIC BENKO BAFFLERS
( Includes Drill Examples )


3-4

6
[ Openings | Dynamics | Statics | Endings | Miscellanea | Top ]
MISCELLANEA
Course

Hours

Level

BASIC COMPETENCIES
( Includes Checklist and Annotations )

Varies

1

COMMON FAILINGS AT TOURNAMENTS

2

4

HOW TO BECOME A STRONG PLAYER
( Includes General Tips Lecture and a Recommended Reading and Study Materials List )

2

5

HISTORY AND GENERAL BACKGROUND
( Includes Practice Games and Exam )

5-9

6
[ Openings | Dynamics | Statics | Endings | Miscellanea | Top ]